CORPORATE EXPERIENCES
---
As always we go a step further, Picocanoa also offers a circuit of "outdoor team building" where participants, through outdoor adventure activities, can reinforce notions of teamwork, integration, leadership, conflict management, effective communication, among others.

For companies that require it, we have Coaching services.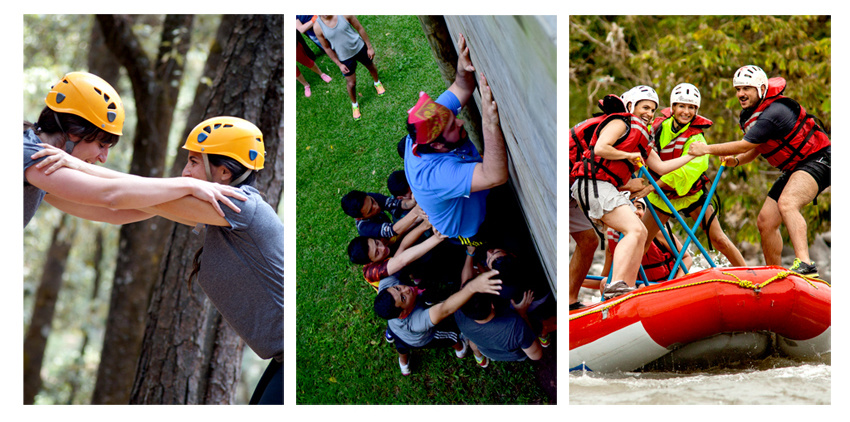 Integration trips, planning meetings, offsites, launches, press conferences, locations, showrooms are just some of the events that can be resolved in Picocanoa .

Companies today face very important challenges. One of them is to differentiate from
your competitors But how to stand out from the others doing exactly the same?

Take your people out of their comfort zone and take them to experience teamwork in real situations. With our integration, leadership and teambuilding programs, the members of a team will learn to detect their strengths, talents and areas of opportunity through super fun and content-rich activities.
Facilities
---
· Lodging ·
(34 Rooms)
24 Cabins
10 rooms feature two double beds and a cozy loft with a single bed. 14 rooms feature two single beds on the central area and one additional single bed in the cozy nest. All cabins offer private bathrooms and Terraces.
10 Safari Suites
6 safari suites feature king size bed and optional extra bed or bunk. 4 safari suites feature two double beds. For buy outs we can offer all 10 safari suites with two bunk beds for a total of 40 px capacity. In the beatuiful safari suite bathrooms the vegetation is actually the best decoration.
Maximum capacity of 112 people in triple and quadruple occupancy.
Work sessions
Complete your sessions with your choice from our coffee break offer. Our spaces for your working session: Picocanoa Salon. Dimensions: 15 x 10 mts.
Maximum capacity in auditorium type mounting: 120 people.
The living room has audiovisual equipment, projection screens, projector, audio equipment, microphones and flip charts.
Special events with your company
---
Do you have any special event in mind?
We make it real! Brand launching events, showrooms, special events, press conferences, driving tests, incentive trips, fashion and lifestyle parties and events, concerts, films and any kind of celebrations are welcome.
Contact us to make the ideal plan four you
reservationsglampingrodavento.com , or call us at 52925032